アメリカ研修 " Don't let you go! "
2018/03/16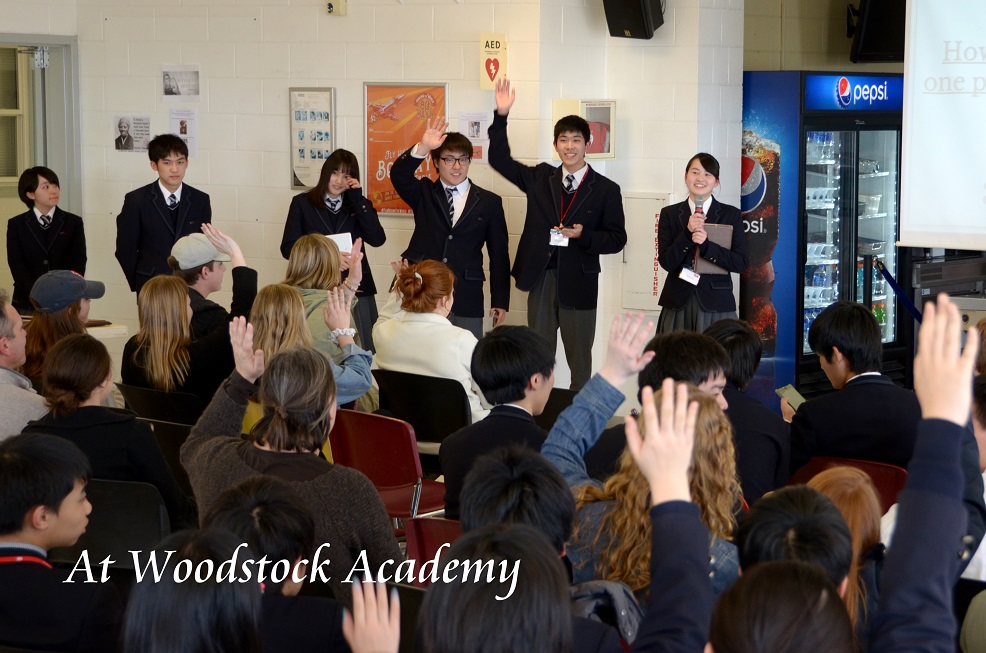 "Don't let you go!"
We had Farewell Presentation at Cafeteria. Our host family and new friends we had made during stay came and enjoyed our presentation. Compared with our first presentation, this time was much better. Students were full of confidence. I noticed that they wanted to show gratitude. A host mother said, "Your students are awesome. I don't want to let them go." "I don't go back to Japan," said students. We had a very good time here. Thanks to Woodstock academy, our host family and buddies, every student had a wonderful time. They had an unforgettable experience. This experience helps them develop their own character. I believe this experience leads to world peace.
Thank you very much, Woodstock Academy! We would like to keep in touch with the Woodstock Academy. See you next year.
Without I.S.A. and G.P.I staff, we could not have this exchange students expereince. Thanks a lot.
Also, I want to say to Japanese family that all the students had a wonderful experience. That's because Mrs. Tsushima supports all the students very well. She took good care of students. Maybe Asako will come here again and become a Japanese teacher here. I don't know whether my boss allow me to.
Q What did you do during your stay?
Yousei said, "I played Corn Hall, but it's difficult for me."
Hiroki said, "Ikuma and I cooked "Misosoup and Seaweed rice" for the host family!
Ikuma said," I played bowling after school. My host father played bowling very well, but American ball is smaller than Japanese one."
Masaaki said, " I played with Rio and Rina and a dog. I ate food my host mother made with Rio and Rina's host family. It's delicious."
Kouki said, "When I took chemistry, it was fun."
Shinnosuke said, "I attended art class. I drew a picture."
Rui said, "I went to the south campus. It was a place where people from different countries live. They welcome us. I' happy."
Shunya said, "Very nice."
Ririka said, "I miss my host family. They are kind to us. We went shopping center. My host sister selects my clothes. I'm very happy. I want to wear this clothes with Risako. "
Risako said, "We played "UNO" with Sophia and Julia. We went shopping center with Amber and Julia. They chose me nice clothes. It was very happy. "
Rika said," We ate Japanese rice for dinner. Host mother 's cooking is very good. We want to enjoy last school tomorrow."
Maki said, "I studied a revolutionary method of calculation! I wrote down it on the journal. "
Kei said, "Tomorrow is final day when we go to school. I'll do my best!"
Mayuka said, "We made rice with hot green tea and instant miso soup."
Yuuga said," Today's last class is self-study class. I talked a lot."
Kohei said, "I ate Sushi. It is the same taste as in Japan. It is delicious."
Kanna said," I was tired, so I fell asleep. Mayuka and Ayaka ate lots of dinner, but I was not hungry enough today. Because I ate apple pie in the cooking class. Tomorrow is final day what we go to school. I want to enjoy myself tomorrow.
Ayaka said, "Today, I talked a lot with buddy. I talked about the difference between Japan and the United States. I gave each buddy "a sushi pen" or "cherry blossom paper". Buddy was very pleased. When I introduced Japan's goodness, she said she wanted to go to Japan. The Woodstock Academy students were familiar with Japan and very talking and funny!"
Sota said, "I went to a Japanese food restaurant, I ate eel."
Kaito said, "I want to see how to make maple syrup. It's cool."
Ikuhiro said," I played table tennis. We ate special dinner. It's delicious."
Touya said," We went to maple syrup store."
Minori said, " After school, I ate hamburger. In Japan, French fries made of potato. But In America, French fries made of sweet potato!! I 'm very surprised. It is very delicious. And I ate ice cream! My flavor is strawberry. I ordered small size but ice cream is large size. It is very big but good taste."
Minori and Kanna said, "We showed how to do Origami. American students were surprised to see us folding a beautiful paper. They told us that we were skillful with our fingers and that only Japanese could do Origami."